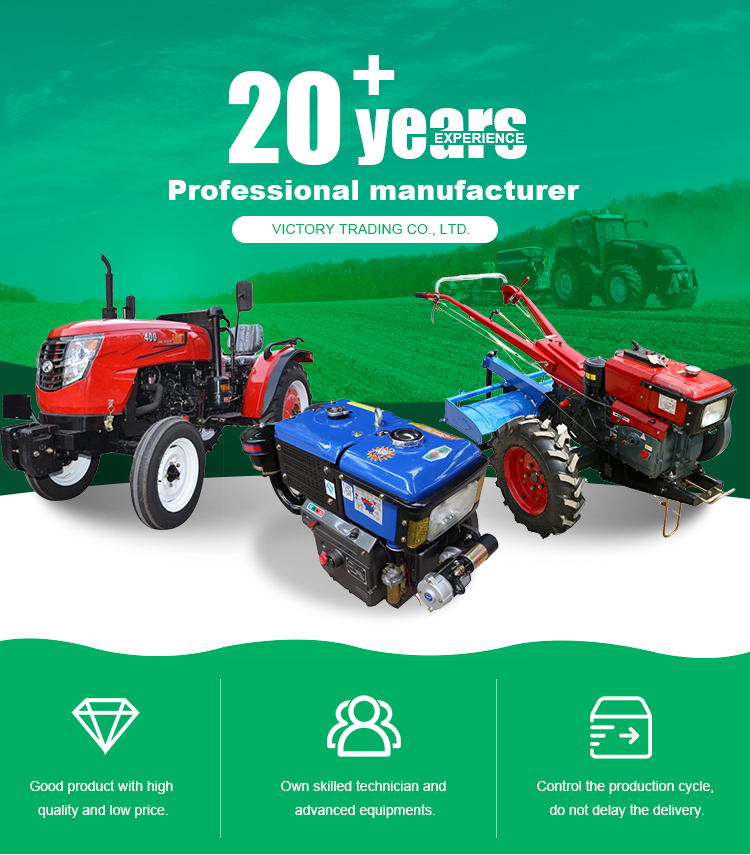 Main feature
Simple and compact structures, light weight, flexible operation, easy to maintenance,low fuel consumption, great performance.
1. Wholly new designed outer appearance makes the walking tractor more beautiful.
2. Low fuel consumption and high efficiency.
3.Cast steel gear box, famous Chinese brand engine.
4.It can be mounted with kinds of farm tools, such as rotary tiller, furrow opener,
soil cultivator, ridger, plough, planting machine, harvesting machine ,etc. This machie can realize multi-purpose functions of one machine.
5.Wide application, cultivating, tillaging, ditching, seeding, pumping water,harvesting of grass, corn, soybean, alfalfa,reed, as well as short-distance transportation.
6. It can be used in plain, hills, mountain, dry field, paddy field, garden, greenhouse, orchard,farm, etc.
7.Hand start and electric start for you choose.
Annual export is about 200,000sets around
Parameters
model

15HP walking tractor


Engine parameter

Engine model

ZS1100

Engine Type

Single, horizontal, water cooled, four stroke

Starting method

hand start /electric start

Combustion System

direct injection

Cooling way

Evaporative /condensing

Power

1 hour

12.13kw/16hp

12 hours

11.03kw/15hp

Dimensions(LxWxH)

2680×960×1250mm

Min.Ground Distance

185mm

Wheel base

580-600mm

Weight

350kg

Tire Model

6.00-12

Tire Pressure

Field Work

80~200(0.8~2.0kgf/cm2)

Transportation Work

140~200(1.4~2.0kgf/cm2 )

Triangle belt

4pcs B1880
model

12HP walking tractor


Engine parameter

Engine model

ZR195 8.82kw/12HP

Engine Type

Single, horizontal, water cooled,four stroke

Starting method

hand start

Combustion System

direct injection

Cooling way

condensing

Power

1 hour

9.68kw/13hp

12 hours

8.8kw/12hp

Dimensions(LxWxH)

21700×890×1150mm

Min.Ground Distance

210mm

Parameter

Wheelbase:640-800mm,clutch:Double plate, dry type, constant joint friction type,Six forward gears and two reverse gears.Tyre 6.00-12

Tire Pressure

Field Work

80~200(0.8~2.0kgf/cm2)

Transportation Work

140~200(1.4~2.0kgf/cm2 )

Triangle belt

2 or 3 pcs B1850